Lebanon, the once celebrated "Switzerland of the Middle East", is undergoing its worst economic crisis: From skyrocketing inflation and public school closings to increasing poverty. The UN has declared Lebanon a failed state. Yet lavish life remains feasible for those earning the US $, coming from abroad or for any mysterious reason. 
 The massive blast at Beirut's port in 2020 has shaped Lebanese people's collective memories. 
Further, it damaged hundreds of buildings in the Lebanese capital's historic quarters, mainly in Gemmayzeh and Mar Mikhaël. Yet many buildings remain completely abandoned and destroyed. 
The preservation of cultural buildings has forever been a hot topic amongst urbanists and architects in Lebanon. A yet obsolete heritage law preserves only monuments built before 1700.
Lebanon has no legislation designed to incentivise the preservation of historic buildings. 
Given the current political turmoil, it will not become on the political agenda soon!  
Yet, Lebanon remains a stunningly beautiful and modern country. Lebanon prides itself, despite its small size, in being one of the religiously most diverse countries, home to 18 religions. 
My voyage encompassed:  Beirut, Jounieh, and Byblos to Tyre.
One of the most outstanding archaeological sites and the world, 
Baalbek
 (1984)
It is "one of the finest examples of Imperial Roman architecture at its apogee and took 120 years and 100,000 slaves to construct. There are three ancient temples at the Baalbeck Archaeological Site—the Temple of Venus, Jupiter, and Bacchus. The Temple of Jupiter is the principal temple of the Baalbek triad and was originally one of the most critical columns in the world. The Temple of Bacchus is easily one of the best-preserved remains of a Roman temple in the world.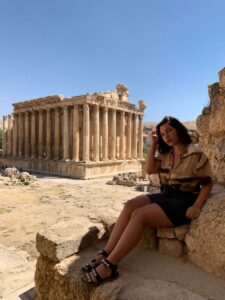 Every summer, Bacchus Temple transforms into a unique venue and hosts concerts. 
Baalbek is not only reminiscent of its roman past but is a pilgrim site for Shia Muslims visiting the Sayyida Khawla Shrine.
Sayyida Khawla was Imam Hussein's daughter and Prophet Muhammad's great-granddaughter.