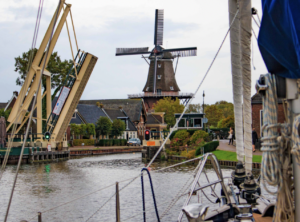 Hey there! We are Gloria and Elena, two young professionals in the field of cultural heritage about to start an awareness-raising action concerning climate change and its impact on cultural heritage in the Netherlands and Belgium!
We will have the privilege of travelling through the Netherlands and Belgium by sailing boat thanks to the Organisation of World Heritage Cities (OWHC) Young Travelling Scholarship 2022 between the 7th and the 27th of September. We are granted the opportunity of being welcomed in Beemster, Amsterdam, Bruges, and Bruxelles where we will be exploring the cultural heritage and the impact of climate change on it and on waterways.
Our project is called navigandum per hereditatem. We have chosen this Latin expression because of the double meaning per hereditatem has: it can signify "trough the heritage", or "for heredity". We believe it summarises well both the cultural heritage focus and the attention they will give to sustainability seen as the prerequisite to have future generations inherit intact cities from us. For us, the protection and enhancement of heritage is a personal priority, and we recognise the importance of communicating it with and to society. We believe that tomorrow's World Heritage will increasingly value sites that foster positive relations between man and nature and will progressively include more intangible heritage, such as local culture and practices.
While we navigate the Dutch and Belgian canals by sailboat – Tetide from 1989 – we plan to work on three projects:
We will post trip updates and daily activities and experiences on Instagram  (@navigatura, @glogloci, @elena_felice) and on this blog to become somewhat ambassadors of the cultural heritage sites we will visit.
We will work on a creative project that will be presented at the Regensburg World Heritage Visitor Center and on the OWHC website. To produce this project, we will use watercolour and embroidery techniques and we will create a long strip representing the ongoing landscape we can see by boat and the cultural ties between sites.
To increase the impact of their Travelling Scholarship, we have been receiving the support of the European Climate Pact and its Ambassadors with the aim of initiating dialogues revolving around the environmental and social sustainability of cities and heritage sites we will visit. We plan on meeting citizens involved in the safeguarding and enhancement of cultural heritage, other Ambassadors, local institutions, NGOs, and international stakeholders. The project aims at culminating with a report presented during the Dutch National Week of Climate in November 2022.
During our trip we will be staying in Dokkum, Harlingen, Volendam, Beemster, Amsterdam, Ijmuiden, Den Haag, Zeebrugge, Bruges, Bruxelles, Bruges, Veere, Willemstad, Rotterdam, Leiden, and Amsterdam, and visit many other cities in between. The itinerary, the schedule, and the boat log are public and keep being updated with meetings and activities. If you want to collaborate on our project you can in fact contact us via Instagram or leave a comment on our schedule!
We can't wait to share more with you about what we will see, experience, and learn during the next three weeks!
zero