I grew up in a town of approximately 10,000 people before moving out at 18. Ever since I lived mostly in cities.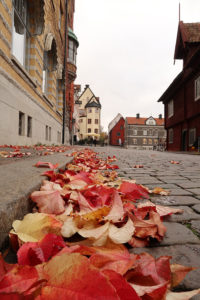 Right the moment I got off the ferry, Visby reminded me of the feeling of home I have not felt in those cities I have lived in since. I felt it even more once I started to walk through the streets.
There are cobblestones, little gardens, trees and parks, the quiet of a small town, disturbed only occasionally by cars going by through streets so narrow they are crawling more then driving.
I took a map that can be picked up at the Tourism Office in the middle of the city, which highlights all the World Heritage sites and puts them in an convenient numerical order, creating a nice cruise around the town ensuring travelers see everything they should.
I started in the southwest part of the town and walked outside the City Wall, surrounded by nature, peace and quiet.
I eventually crossed to the inside of wall, watching the precise line of the old and the new, where the medieval wall meets the today's town.
I saw the old churches and ruins, sheep statues and adorable little stores, but what caught my eyes were hopscotches everywhere! As a child, I did not have the appreciation for old castles and ruins I have now, unless there was a kids program that allowed me to fight against bandits to win treasure box filled with candy. So even as an adult now, I appreciate the town acknowledging that families travel together, yet the little family members might need some sort of entertainment in order for parents to be able to explore.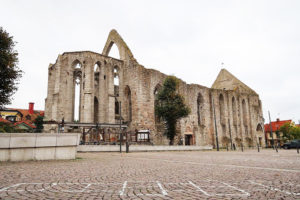 I finished my day at the Gotland Museum, learning about the picture stones that cannot be found anywhere else in the world, the Viking history, the Danish invasion, the reconnection of Visby back to Sweden and what life was like throughout all that time.
Elene called Visby "the Manhattan of the medieval times."
I can see it now.