I had the blast of finally visiting my amazing friend, who I met during my studies in Udine, Italy. She is from Tunis, Tunisia, and within ten days, we visit many intriguing places of the beautiful country, its people and culture, its cultural sites and its delicacies. Some places we visited are: Ell Haouria, Sousse, Carthage, la Marsa, Sidi Bou Saïd, Bizerte to El Jem to the northernmost tip of North Africa, Cap Angela.
Tunisia is also the country, where the Arab Spring started and ignited waves of demonstrations across the Middle East.  However, 10 years later society seems uncertain about how far positive changes have been accomplished.
Yet my friends complain a lot about the current economic challenges and soaring prices that harden living conditions in Tunisia.
The many breathtaking world heritage sites we visit testify to Tunisia's both roman and arabo-muslim heritage: In particular I loved the  Amphitheatre of El Jem  and Medina of Tunis.
 Wonders of Roman architecture in El Jem – Amphitheatre of El Jem (1979)
Today is a brutally hot day. 47 degrees, and we arrive in the village of El Jem. Here stands the Colosseum, We can't see any tourists at this point, but a camel sheltered under an umbrella. We dare not to resist and accept to take a  ride on the camel along the impressive ruins of the largest Colosseum in North Africa.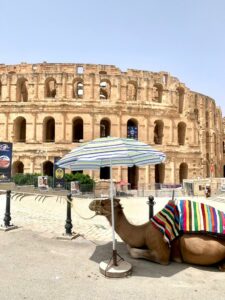 Its excellent state of preservation makes visitors feel awe and wonder. Built 2 centuries after Rome's Colosseum, El Jem is visited by fewer tourists. We had the luck of being one of the few tourists this day which granted us a unique and adventurous discovery. The entrance fee is only 3 euros.
During summer evenings, even concerts are held in the marvelous monument. Interesting as I found that these cultural events were organized by the German embassy in Tunisia. 😲
Strolling through the enchanting
Medina of Tunis
(1979)
The Medina of Tunis is one of the first Arabo-Muslim towns of the Maghreb (698 A.D.) Under the Almohads and the Hafsids, from the 12th to the 16th century, Tunis was considered one of the greatest and wealthiest cities in the Islamic world. We are exploring the Medina   with Salah, found via  Guru Walk (same concept as Free Walking Tours) He is one of the best tour guides I have ever had and we spend a remarkable 4 hours together in the Medina. (You could absolutely spend even more time there)
By strolling through the Medina and listening to Salah's stories bear witness to the interaction between architecture, urbanism and the effects of sociocultural and economic changes of earlier cultures.  700 monuments, including palaces, mosques, mausoleums, madrasas, and fountains, testify to this remarkable past.  Everything is simply unique – every door has its beauty and story: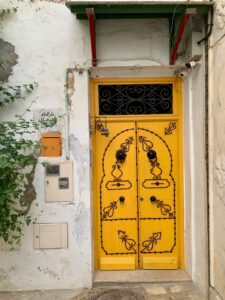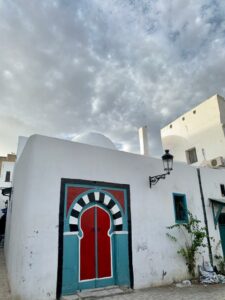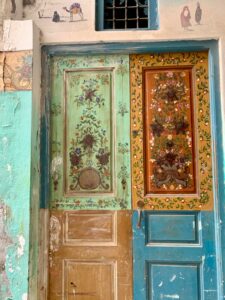 This Medina is probably the best one I have ever been and an interesting example of how people live within a world heritage site. 🥰
Have a look here to understand the versatile character of the Medina 🙂