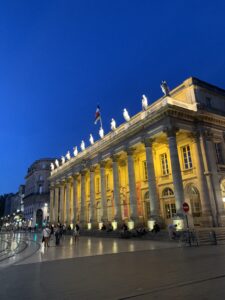 The Tour de France continues in Bordeaux. A city that most people associate with one thing: wine! 
Yet my trip to Bordeaux was much more than exploring its wine culture. I was especially intrigued by:  How can urban spaces be used to commemorate the dark side of the past and educate the public/ visitors? 
But, to start with, I had the blast of meeting, exploring, and being hosted by a local, Eloise. She is a young world heritage ambassador for @opvm. Making her the best tour guide I could have asked for. Big thanks and shoutout to her and Moni for bringing us into contact.
 Certainly, Bordeaux has notoriously gained its appreciation as a world heritage city, namely of its harbor, "Port of the Moon." Yet roughly 40% of the entire city's area is covered as world heritage, marking the largest urban area inscribed by UNESCO within those incredibly breathtaking buildings (see photos: Miroir d'eau at the place de bourse)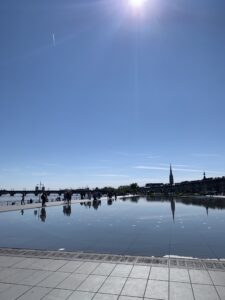 The "innovative classical and neoclassical architectural trends" mark the beauty of the city center. The harbor has helped Bordeaux become infamous for its wine industry and as a global trading center for more than 800 years! Another must-see is the "Cité du Vin," a high-tech museum teaching you about the history of wine 
Small villages nearby, such as Saint-Émilion, the Médoc, Canon Fronsac, Sauternes, and Graves, are ideal for exploring vineyards and learning how grapes become wine.
 Bordeaux's glamour is often connoted by its wine. Its majestic buildings and grand buildings were heavily financed by the transatlantic slave trade, generating human tragedies.
The dark part of Bordeaux's history remains problematic and is a difficult political issue. Even for the residents themselves, My guide says it is partly because of something people have been trying to escape from in the past or hiding behind the facade of being a glamorous wine city.
Yet, many, especially young people, have facilitated and lobbied for a shift towards a "just narrative" which also requires condemning what happened a few centuries ago.
"That story remained untold until recently," argue the tour guides who aim to tell their visitors the dark and unspoken side of Bordeaux's glorified past.
In 2019, some of Bordeaux's streets, which were named after slave traders, have been modified "to add historical context" 
In addition, Bordeaux has created a "memorial route," or exhibitions in the Musée d'Aquitaine.
Various statues and symbols mark Bordeaux's public spaces, stimulating visitors' thoughts and allowing them to listen to the untold stories of the then most vulnerable part of "society."
One of my favorite statues was the one of:
Modeste Marthe Adélade Testas (1765-1870)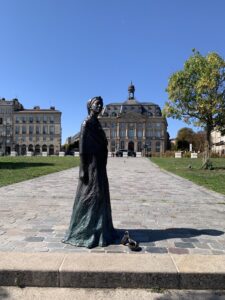 She was an Ethiopian slave, who was enslaved by Toulouse merchants and then transferred to the plants in the new world.
Despite the harsh conditions she must have undergone she became  105 years old! She was a popular figure and bequeathed land. Her grandson became Haiti's first president. (Having tears in the eyes while writing this)
Another interesting encounter was at the embarquement gate of the spokesman of democracy, Thomas Jefferson, which marked the 5 days in Bordeaux of the wine-lover.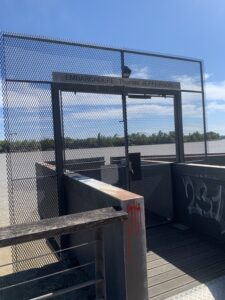 Undoubtedly, these statues/symbols do underline a certain political power and broadcast a particular message.
Given these interesting historic insides, Bordeaux has become one of my favorite cities: full of prehistory, the eclectic mix of architectural styles, and the feeling of liveliness and elegance. Only walking through the warm, quirky streets made me feel welcome in such an extremely beautiful city.
Every corner comes with its own beauty and uniqueness!