As I mentioned earlier, my immense, endless and obsessive love for Spain did not allow me to pass on the greatest airfare deal ever seen —this time to Barcelona,  a city I have not been fortunate to visit yet.
Yet, to my initial surprise, Barcelona is not part of the Organization of World Heritage Cities (the same goes for New York, Athens or for example Madrid, just to name a few). The city checks all the boxes — Barcelona has a UNESCO site within the city limits (more than one actually) and with no problem it could prove that there is an outstanding universal value to it.
But the thing is, cities such as Barcelona are so prominent they don't need to go through being nominated and approved,  a process which Melissa from Global Philadelphia compared to a dissertation. 
That fact, of course, makes Barcelona no less beautiful or worth visiting. Heritage-wise, Barcelona is a truly rich city, full of history, UNESCO sites and cultural significance.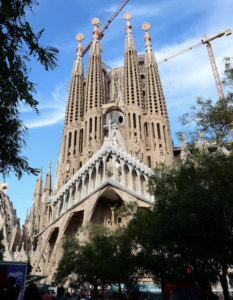 Without having to think about it, my first steps led me straight to La Sagrada Familia. As impressive as all the pictures of it I have seen, the basilica towers over the city in all its magnificence. There is no such thing as simply looking at the structure and leaving. No! I couldn't help it, I stared—at the candy-like tops, ginger-bread looking walls. I couldn't help but think the basilica looks like a few different architects started to bring their own ideas to life and randomly met in the middle. Yet it somehow works.
From there, I decided to cross the city and climb up to the Park Güell, another of the UNESCO sites. While I knew about Barcelona's octagon-like city structure, its full magnitude hit me only once I walked through the city, every time I had to obey it and take a detour crossing from one octagon to another. Only then I started to wonder how an old historical city has such an organized structure one more likely expects from modern cities like New York that was built that way it is built on purpose.
Barcelona did not always look like it does today. The Eixample, characterized by long straight streets, a strict grid pattern crossed by wide avenues and octagon-like blocks, was introduced by Ildefons Cerdà in early 19th century. After studying other cities, Cerdà proposed to build the Eixample in order to facilitate transport and navigation. According to Cerdà, the octagon-like detail was to provide greater air circulation in the streets, greater possibility for trams to turn corners and higher visibility around corners. The blocks are oriented in a NW-SE direction to ensure each household receives enough natural light each day.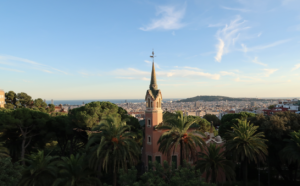 And so I made my way to the park, right before sunset, enjoying the view of the city, the view of an ocean of palm trees in the big city complimented by the endless blue in the background. I climbed above the park, off the path, hoping not to break any one of my bones, reminding myself I don't have travel insurance.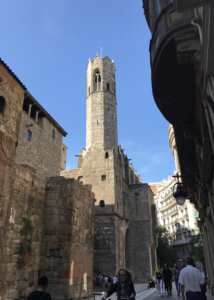 I did not have time to discover all parts of the park as the sun went down rather in a rush, leaving my surroundings nearly pitch black, only unwillingly allowing the night light of the city to disturb the darkness. 
I climbed back down the hill, back into the swarm of octagons, and without using GPS I was taking turns left and right as I wished, stopping to sit in parks, take pictures and just inhale the gratitude that I can do all of this.
A perfect day in Barcelona.