Where is Mosè?
The morning started off without Gloria's cat, Mosé. We have been forgetful leaving the boat's entrance a bit open during breakfast and the cat escaped out. So, we began seeking him all around the harbor, looking at every boat and every corner, asking people if they had seen him. 
After an hour we found him in a hedge between two fences delimiting the harbor. We tried to get him out by attracting him with cats' biscuits. But no way, Mosè was leaving his best life in that hedge and he had no intention to go out. The only solution was to enter between the two fences. Gloria did it, while Allegra was checking every Mosé's movement. Unfortunately, the hedge was made of thick and thorny plants, so Gloria had some difficulties, but in the end she managed to grab the cat.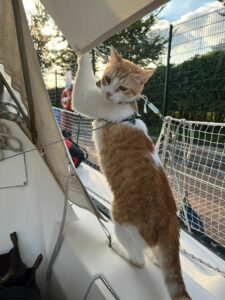 Movies, movies, movies 
As winners we went back on board and started getting ready to go out. We quickly ate some Italian spaghetti with tomato sauce and then we went to the Eye Filmmuseum, which is very close to Sixhaven Harbor. 
Eye Filmmuseum is the leading Dutch cultural institution dedicated to filmmaking. The museum is located ia building with a modern and unusual cut, which was inaugurated by the Queen of the Netherlands in April 2012 and was designed by Austrian architects Roman Delugan and Elke Delugan-Meissl. It includes four movie theaters and a 1,200 m² exhibition space. The structure is envisioned as a highly tensed and dynamic geometric solid. Smooth, crystalline surfaces reflect light in a variety of ways, subjecting the building's appearance to permanent optical changes throughout the day. Movement and light are clearly manifested as essential parameters for the film as a medium in architectural production. In a formal and atmospheric symbiosis, the museum building responds to its surroundings and the distinctive neighboring Oeverhoeks tower. Two motivations guided their design: plural perspective and physiological effect. Along these lines, the entire structure alludes to the cinematic experience as a game of light, space, and movement. The building's white roof alludes to cinematography, and the façade reflects light in constantly changing conditions.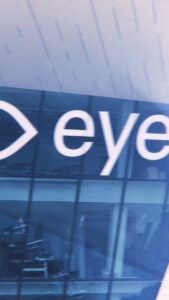 EYE's main goal would, in theory, be the preservation of film heritage for future generations, both of Dutch films and foreign films shown in the Netherlands. EYE's collection of films on film, and the technical expertise of its conservators and restorers in the field of restoration are internationally renowned[1]. But the EYE is primarily concerned with showing contemporary films and promoting new cinema produced in the Netherlands at major international festivals, often forgetting its archival vocation.
EYE houses the largest film library in the Netherlands. The Institute's collection consists of 37,000 films, 500,000 photos, 41,500 posters and scripts, collections of private materials belonging to filmmakers, and thousands of film-related objects. The collection, which ranges from silent films of the late 19th century to contemporary productions, to which many Dutch but also foreign titles are regularly added, is regularly ignored by EYE's film programmers and curators of exhibitions presented at the Museum. The only exception, almost confirming the rule, was an exhibition devoted to the impressive Desmet Collection, which was included in the UNESCO Memory of the World list in 2011.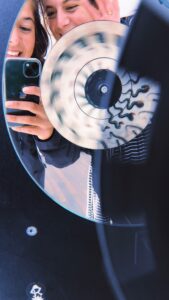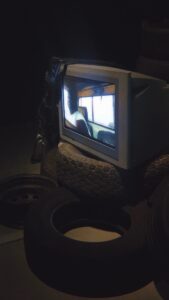 We were impressed by a three-channel HD video installation by Kahlil Joseph. He is interested in the physical possibilities of presenting his films and in the moving image in all its forms – from video clips to commercials and news footage. The artist said that he makes the stuff he wants to see and in the process he blurs the boundaries between art, journalism, documentary film, and cultural criticism. We were enthusiastic because his style was so seductive and hypnotic. 
Moreover, we were interested in his way of challenging the mainstream – predominantly white – media representation of the lives of black Americans. Indeed, the video installation was about a not well known subculture: black cowboys. In particular, the video illustrated the Black Rodeo, which is held annually in the tiny town of Grayson in Oklahoma.
Before leaving the Museum, Allegra bought some playing cards with beautiful illustrations of Hitchcock's movies.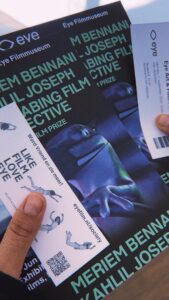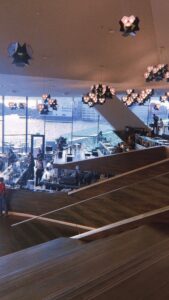 Bruges is calling!
Then, we had to run to the boat to pack our bags and go to the station where we had an appointment with Blablacar. 
Since Gloria had to wait five days in Harlingen between Elena's departure and Allegra's arrival, the itinerary has been changed. Sadly we couldn't reach Bruges by boat anymore. That's the reason why we picked up a ride in the car to get to Belgium. 
The shared car trip was an opportunity to get to know an Argentinian girl visiting Europe and an orchestra singer from Amsterdam. We listened to really good and new music!
At nine p.m. we got to Bruges, where a kind, sweet and helpful couple was waiting for us. After reading our request on a facebook group, they decided to host us in order to help the realization of our project. We appreciated this act of kindness immensely and tasted the good taste of solidarity. They have even made an apple cake to welcome us!
Our arrival in Belgium couldn't be better!