The city between the bridges, the capital that floats on water,… was built on 14 (!!) islands surrounding the original mediaeval city or Gamla Stan/ Old Town, these islands are connected by more than 50 bridges.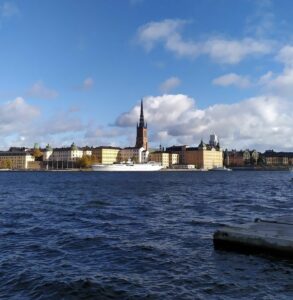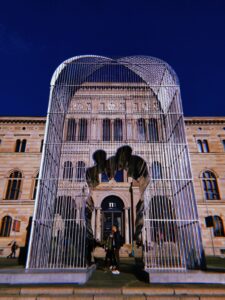 In Gamla Stan, there are many beautiful buildings to be spotted, most of them dating back to the 16th and 17th century. One of my personal favourites is definitely Kungliga Slottet or Stockholm Palace, it is the official residence of the Swedish monarch Carl XVI Gustaf (although it is not where he usually resides). The impressive building was built on the site of the original Tre Kronor Castle (13th century), which was destroyed in a fire at the end of the 17th century. In the 18th century, Kungliga Slottet was built and has remained relatively untouched since its completion in the 1770s.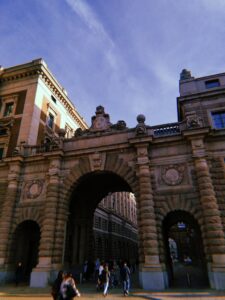 Apart from impressive built heritage, the capital of Sweden is also home to another extremely important part of Swedish heritage: fika. Fika is a vital part of Swedish social life, having a relaxing coffee with friends – never forgetting to accompany it with a baked treat! The most popular pastries to have for fika are the kanelbulle/ cinnamon bun and kladdkaka/ sticky chocolate cake, which were tested and approved alongside many coffees (I had to, for the integrity of this blog).
And if beautiful buildings and amazing food cannot convince you to pay Sweden's capital a visit, there is always the Museum of Modern Art/ Moderna Museet, where you can visit the permanent collection for free. Home to a collection of art from right before the First World War until the 1980s (from Malevich and Picasso to Abramovic and Sherman), with a distinct attention to feminist art and female artists – it is definitely worth a visit!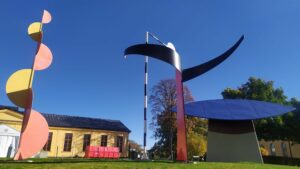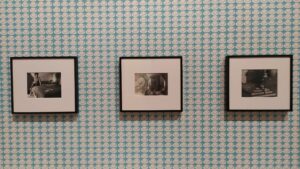 So if you are lucky enough to visit Stockholm on a nice sunny day, enjoy the perfect combination of heritage and fika while sitting by the water and looking at the beautiful surroundings…
The city of Stockholm published a Climate Action Plan (2020-2023), with the main objective being "A fossil-free and climate-positive Stockholm by 2040". You can read the whole plan online via this link:  https://international.stockholm.se/globalassets/rapporter/climate-action-plan-2020-2023_ta.pdf . The Action Plan talks about biodiversity and natural heritage, however, cultural heritage is not mentioned specifically. The Swedish Portal for Climate Change Adaptation does include the impact of climate change on cultural heritage – mainly focussing on preventive work and preserving traditional knowledge.