In discovering Bavaria, doubtless one of the most iconic and idiosyncratic regions of Germany, that is often consid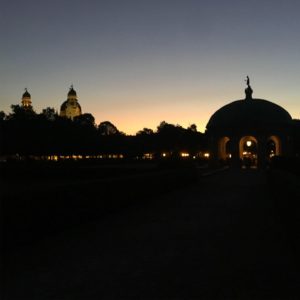 ered the heart of German culture, we begun by visiting Nuremberg – the second largest city in the Bavarian province and a former center in the holy Roman Empire. Beside once being home to the famous artist Albrecht Durer – whose house is today open for visitation – Nuremberg also housed more sinister guests during Hitlers Nazi Regime and was actively used as a muster point for massive military rallies as well as a germane backdrop for propaganda documentation. However, by the end of WWII, more than 90 percent of the city had been demolished thus the contemporary architectural palette is mainly comprised of new buildings and reconstructions designed to emulate medieval architecture. Despite still being an industrial powerhouse, Nuremberg has also become a popular tourist destination and between the imperial castle – which is surrounded by a myriad of timber framed houses, the impressive St.Lawrence church, the world famous toy museum and the incomparably Christmas spirit inducing Hauptmarkt, there is no wonder why the city attracts travellers from across the globe.   
As our journey across Bavaria continued, it was only natural that Regensburg – once the capital of Bavaria – be our second destination. Like a pop-up book, the city's history is vividly portrayed by the many monuments, edifices, natural resources and peculiarities that keep appearing around every new corner. The open remnants of a Roman fortress, dating back to 179 AD., speaks of the earlier stages of the city's life, when it was but a strategic outpost for the holy Roman Empire, comprised of around 6000 soldiers. The numerous empty towers, which seemly serve no other function than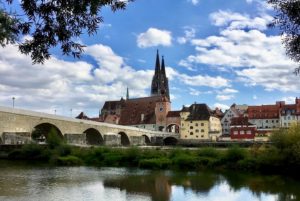 to try and outdo each others stature, relate to a time when the town had become a critical point in European trade and as such enjoyed wast economic growth. The great dom (st. Peters Church) that towers above all, which construction begun in 1275 and was completed in 1634 – with the exception of the towers that were raised in 1869 – indirectly narrates the city economic fluctuations, as well as its relation with the Catholic Church. While in Regensburg, we also met with Regional Secretariat, Monika Göttler who gave us a guided tour of the city before taking us to lunch at the oldest outdoors sausage kitchen in the world for a traditional meal. Monika also told us about her job and how in 2006 the old town of Regensburg got under the protection of unesco, as the only German medieval metropolis to remain intact post WWII. In modern days, Regensburg is home to several high tech companies such as BMW, Infineon and Osram, which make it one of the fastest growing cities in Germany, but it is also a popular tourist destination and with its high rated universities it also attracts students, which help the town remain young, vibrant and developing.
In concluding our campaign through Bavaria, the regional capital of Munich seemed a prudent choice. While there we accidentally stumbled upon the modern looking NS-Dokumentationszentrum, which houses an organised exhibition of Munich's history with emphasis on its development during WWII and historical relation to semites. In comparison to most other educational institutions we visited along our Europe trip, we were impressed with its logical layout, professional presentation and free admission policy. We also paid a visit to the massive Pinakothekder moderne, which beside being a testament to architecture in itself, displayed works of Picasso, Beckmann, Bouyce, Laib, etc., as well as a great selection of seminal design objects, with an isolated section dedicated to the Bauhaus movement. As big as it is, while in Munich, we felt that it was a city for people. The streets were busy with life and tourism. In the evening we even observed an amateur class practicing waltz in a pavilion in the Hofgarten park. Had
We arrived but a couple weeks later to Munich, we wouldn't have been able to secure accommodation due to the vastly popular Octoberfest, which is a city wide celebration of the Bavarian spirit. The city is also home to the second biggest football arena in Germany and as such attracts great number of football fans.
In summary, travelling through Bavaria has been an interesting experience and we leant a lot about their history. Both the positive and the negative aspects which are important when trying to understand why Germany is how it is today.