Upon arriving in Vienna, one need but a single glance to grasp the historical import of this impressive and beautiful metropolis, that rightfully claims an assortment of titles, such as the former capital of the Austrian-Hungarian Empire, the city of music and the birthplace of psychoanalysis.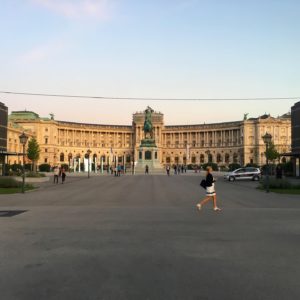 Navigating by foot, we often felt as if surrounded by a seemingly interminable myriad of grandiose buildings, ornate facades, decadent sculptures, lavish parks and intricate fountains and while both of us come from small cities, the singularly opulent Viennese city-scape, could not help but install
a novel sense of awe. With the Augarten in the north, the city center being comprised of the Wiener Staatoper, the Hofburg Palace – with its 16 adjacent complexes – the Museum Quarter, the St. Charles church and St. Stephens Cathedral, as well as the Albertina and the Secession Gallery, to the Schonbrunn Palace in the west and the Belevedere Palace in the east: Vienna is no doubt a testament to human achievement and the arts of architecture, infrastructure and city-planning alike.