"Bergen was long the biggest city in Scandinavia, and Bryggen was the city's heart."
My last stop was the one I had been looking forward to the most; the World Heritage City of Bergen in Norway. The 7 hour train ride from Oslo to Bergen is already incredible in itself, time flies while passing countless lakes, small villages and snowy mountains.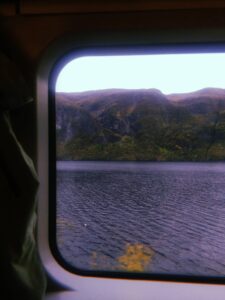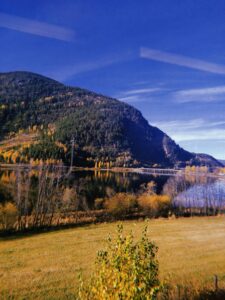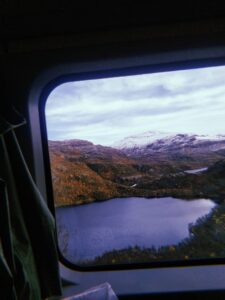 Bergen is the name of the city – located on the west coast of Norway. Bryggen, however, is the UNESCO World Heritage Site that is located within the city of Bergen. It is the old wharf of Bergen, part of the Hanseatic League (just like Visby!). It consists of around 62 wooden buildings that have been burned down and rebuild many times over the centuries, but the traditional patterns and methods remained… Bryggen was inscribed on UNESCO's World Heritage List in 1979.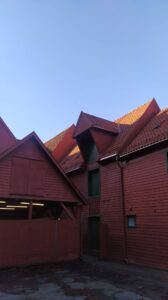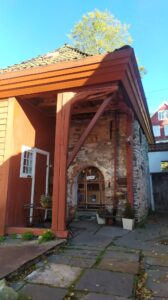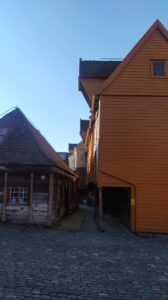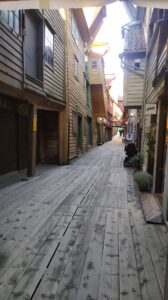 Bergen is known for its beautiful surroundings, its nickname being 'the capital of the fjords', so of course I did several incredible hikes in the area, each view was even more impressive than the last. One of the many possibilities is taking the Floybanen to go up to Floyen mountain and seeing the city of Bergen from above. Alternatively, it is also absolutely incredible to take a boat cruise and see the fjords from up close!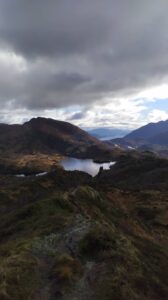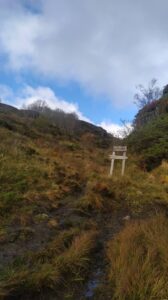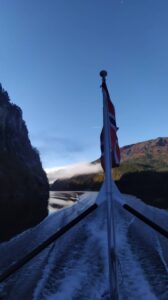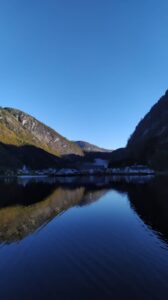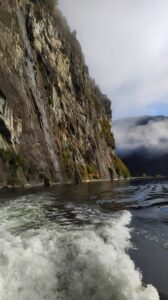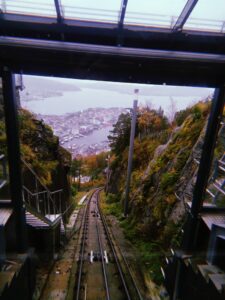 On my last day, I was lucky enough to meet Hege Agathe Bakke-Alisoy, who gave me a tour of the Bryggen site and explained its history throughout the years. We discussed the effects of climate change on cultural heritage as well as on the city as a whole, giving me several interesting examples of initiatives that are working on this subject.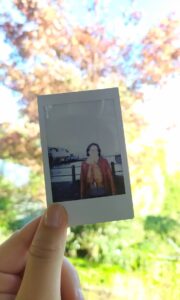 Many positive things written about the way Bergen is setting an example for climate action globally, something that was confirmed in my conversation with the World Heritage Coordinator as well as other people working in the office of Bergen Kommune. It is something that has been taking centre stage in their decision-making and policies for several years, something that is taken very seriously. The City council of Bergen published the 'Green Strategy: Climate and Energy Action Plan for Bergen' in 2016, a very concrete and detailed action plan that you can read online, https://mycovenant.eumayors.eu/storage/web/mc_covenant/documents/8/65nOG32AUwcxBnxv2IYXYsYmSQiydgyW.pdf.
Bergen might have been my favourite stop of the whole trip, its rich culture and beautiful fjords are unmatched! Definitely take your time when you visit this World Heritage City, a couple of days will not be enough for you 😊