Hello, Carolina, here! Now that I am about to depart and embark in the adventure to visit 7 cities (6 of which are World Heritage ones), from Berlin to Warsaw, to learn more the impact war has on cities, it is time for an introductory article with more details about the project!
* WHY THIS TOPIC? *
During my Erasmus in Italy, in 2016-2017, I was profoundly touched by the refugees' crisis in the Mediterranean. Back to Lisbon, to finish my master's in Architecture, I decided to investigate on different reconstruction strategies that were used in different scenarios through time and geographies in urban settlements impacted by armed conflict, choosing as my main study case Aleppo, in Syria. Since then, I am fascinated by the topic and always eager to learn more about the importance of safeguarding our physical cities during challenging times as population heavily depends on the basic services they host and the memories they embody. Now, sadly, with war back in Europe, the topic choice was even more clear, as these are crucial matters on the table again!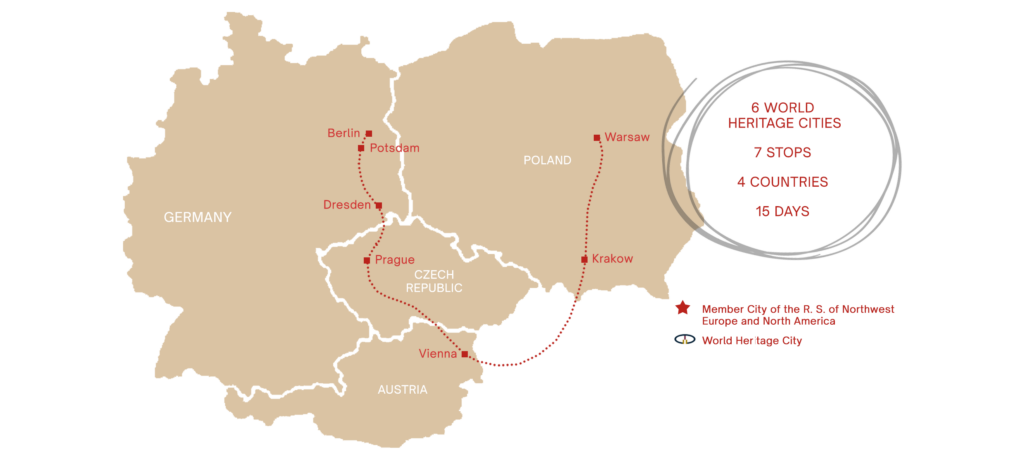 * WHERE WILL I TRAVEL TO? *
Under the theme "Cities at War: Heritage Lessons from the 20th Century", I will start in Berlin and end in Warsaw, covering the impact World War II had in Central Europe. In total, my trip will include 4 countries, 7 cities and too many experiences, discoveries and stories to count!
* WHY DID I CHOOSE THESE PARTICULAR CITIES? *
Variety! Each city faced slightly different challenges during and after war, when it comes to heritage safeguarding and preservation. During WWII, some were heavily bombed, like Dresden, others almost spared miraculously, like Kraków. Some were battlefields, others occupied, like Prague and Vienna. Some cut almost all ties with the past, some were rebuilt to look like they did in the most hopeful times before the war, like Warsaw.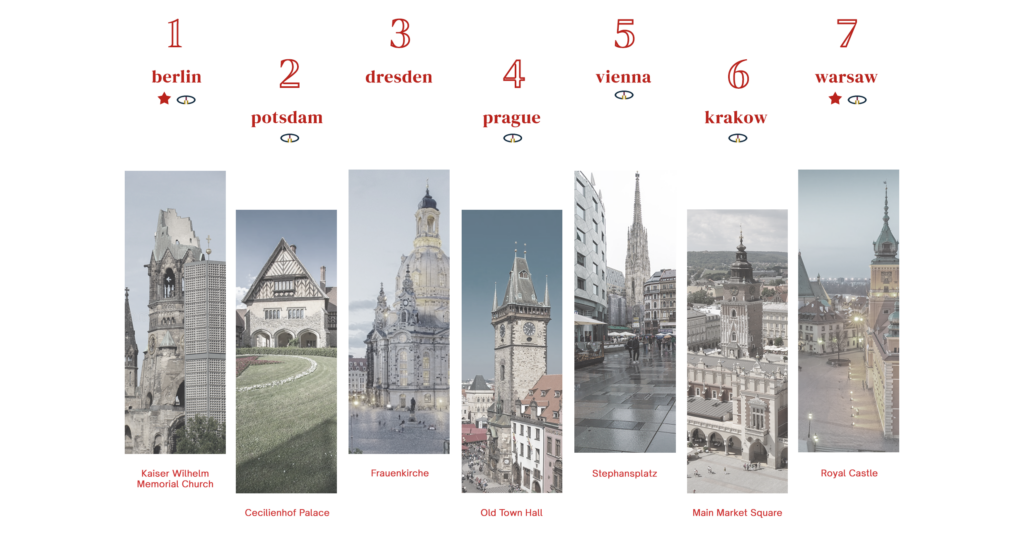 * WHEN WILL I BE TRAVELLING? *
I will be travelling from August 22nd until September 8th. I plan to stay a couple of days in each city. The expected calendar is the following:
Berlin ( 22-24 Aug) > Potsdam (25 Aug) > Dresden (26 Aug) > Prague (27-30 Aug) > Vienna (31-2 Sep) > Kraków (3-5 Sep) > Warsaw (5-8 Sep)
* WHAT AM I PLANNING TO DO IN EACH CITY? *
Almost eight decades after the war, I plan visit each city main sites and speak with heritage professionals in loco. I am sure will have many interesting conversations and learn more on what worked, what didn't and what we might learn from these interventions nowadays! Each city will later inspire a blog article, but following this trip's Instagram page (https://www.instagram.com/cities_at_war/) can also be a complementary way to learn more about this project as I explore. Stay tuned!