Amsterdam is simply unique and probably one of the most popular European capitals: youthful, laid-back, easygoing, and the perfect place for cultural enthusiasts. 
One respondent, claims it to be the perfect northern European city:  Bright, fresh, clean, and open-minded.
People I encountered point out the "culture of acceptance" as the city's main perk. Yet, many have claimed the city has become too international and has become distant from the locals in recent years. Despite its skyrocketing housing prices, the city attracts millions of students every year. 
Yet, there seems to be a vacuum or even a conflict between cultural exposure and the city's identity. 
Undoubtedly, the city's identity astonishes tourists with its canals, picturesque architecture, and merchant houses.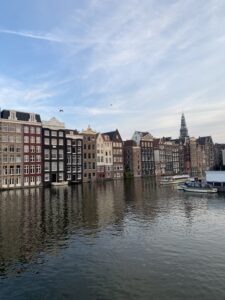 Therefore, Amsterdam is often referred to as the Venice of the North. To put it in numbers, there are 100 kilometers of grachten (canals), about 90 islands, and 1,500 bridges. UNESCO has designated the Prinsengracht, Keizersgracht, Herengracht, and Jordaan canal ring area of the 17th century as world heritage.

 I loved visiting some outstanding museums. At the Stedelijk Museum, which exhibits contemporary art, I enjoyed the exhibition on colonization and educated myself about the Dutch colonial past in Suriname and Indonesia. 

The Rijksmuseum and its exhibitions can not be missed.

In addition, I finally managed to visit the Anne Frank house (make sure to get tickets online in advance) This is the place, where Anne Frank hid for more than 2 years during WWII and where she wrote her infamous diary.

Later, I enjoy scrolling through the magnificent city and visiting the sights such as Dam Square, Royal Palace, the New Church and Waterloo Square.

Time has been too short, and I have unfortunately missed Almere and the chance to visit the Floriade. (Thanks and shotout to OWHC colleagues in Beemster, who have organized a free ticket)

Floriade is a world Horticultural Expo and is well known as the largest public event in the Netherlands. The 2022 event titled  'Growing Green Cities" reveals the need for rethinking the future of our cities and how we are going to life there in the future. 

Floriade, therefore, contributes to a dialogue and sparks ideas by bringing different countries, cities, and companies together to flourish the Green City of the Future.