Looking for Art Nouveau houses
One of the first things Anna, the lady who hosted us in Brussels, showed us was a wonderful book with beautiful illustrations of the city at the turn of the last century before splendid 18th-century buildings were demolished and when Art Nouveau was at its peak. Therefore, we could not resist following a short itinerary in search of some of the masterpieces of the artist and architect Horta. A forerunner of Art Nouveau, Horta revolutionized the way people conceived of dwelling buildings, broadening the architect's task from the design of spaces, interior and exterior, to a conception that also included the study and implementation of lighting, furniture, wall decoration, even objects. According to the definition of one of his admirers, French architect Hector Guimard, Horta was an "artist architect" who conceived of the home as a "total" work of art, like a "shell" built around its owner. We were so curious that we read a lot of information while walking from one house to another.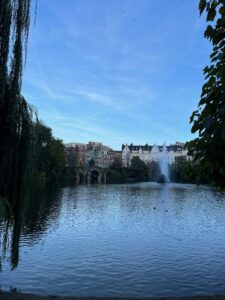 «To each epoch, its art. To art, its freedom.» 
This motto, displayed on the frontage of J.M. Olbrich's Secession House in Vienna in 1898, reflects the desire to which Art Nouveau was a response: the desire to break away from imitating styles of the past, to develop an art that reflected the sensitivities and way of life of a particular society, the extreme individuality of the artist dreaming of inventing an original language that would ensure the absolute harmony of life's ornamentation. With its newly acquired wealth in commercial or industrial enterprises, the private home became the framework for an aesthetic experience for a new middle class. Art Nouveau was thus adopted by progressive individuals who sought to assert their modernity before it became widespread across all social classes or a passing fad. Images in decorative arts magazines and in commerce (department stores or magasins d'art) spread the word.
Our favorite house was Saint-Cyr house, one of the most extravagant Art Nouveau achievements. It was built by Victor Horta's protégé, architect Gustave Strauven. Between 1901 and 1903, he built and designed this house for the painter George Saint-Cyr. The four-meter-wide narrow façade is rich in delicately crafted ironwork. The circular loggia surmounted by a wrought iron gable in Baroque style is one of the most stunning elements of the façade. The house has a fairy-tale atmosphere thanks to the architectural twist and ornamentation.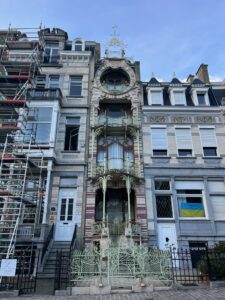 A coffee with the Italian Ambassador
After this amazing walking, we took the underground to get to the Italian Embassy in Brussels. We were so honored and grateful to be welcomed there. It was a great thrill to dialogue with Ambassador Francesco Genuardi, tell him about our project and answer his questions. In addition, we had the opportunity to ask more about his work and what it means to represent Italy in a country of central importance for European purposes, such as Belgium. The ambassador explained to us his role in connecting Belgian and Italian instances from both economic and political and cultural perspectives. We were positively impressed by his openness to citizenship and youth initiatives.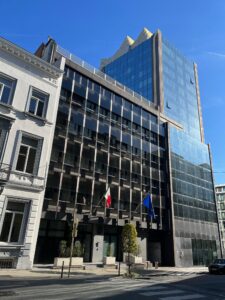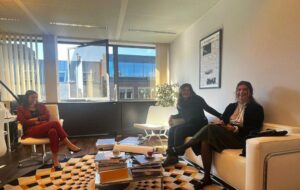 It's time to leave Belgium
Unfortunately, time ran out in Brussels and we had to head to the bus station where with some difficulty we found our Blablabus waiting for us to leave. Before reaching our destination, which is Amsterdam, we passed through Rotterdam, a city we did not know and were dazzled by as we peered out of the windows. During the long bus ride, we rested and used the time to post social content about the wonderful days in Belgium.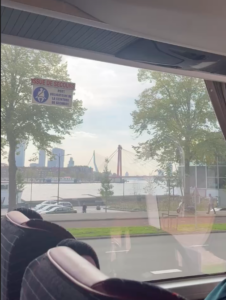 Once we arrived in Amsterdam we ran into the doors to greet Moses the cat who patiently waited for us during these days away. Just enough time to unpack and then we got right to work preparing a small aperitif for Door Mariam and her boyfriend. Door Mariam studies in Groningen as Gloria and writes for the online newspaper Ukrant. Interested in our project she asked us for an interview. It was an in-depth and extremely pleasant conversation. It was an opportunity to focus on all the activities we had copied over the past weeks and reflect on them. After letting them taste some Italian amaro, we said our goodbyes and sank into bed to give ourselves a great rest!