I am Nina Kotula, a student and lucky winner of Young Travelling Scholarship. As a traveller I believe that travelling is the only thing you can buy that makes you reacher. 
I would like to invite you to follow my steps during my World Heritage Adventure through Denmark&Norway&Sweden. My plan includes visiting 6 of World Heritage Cities – Toruń, Poland; Bergen, Norway; Notodden, Norway; Tinn, Norway; Kolding, Denmark.
Thorn, Poland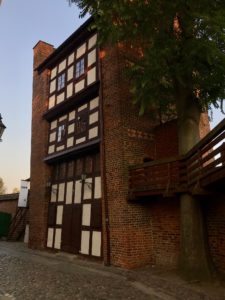 The Leaning Tower 
Thorn is one of the oldest cities in Poland, first settlements dated on 8th century, and the birthplace of Nicolaus Copernicus (an astronomer who stopped the Sun and moved the Earth). It's also listed on UNESCO World Heritage Site! Not only medival monuments impress tourists – every year many cultural events take place in Thorn. One of the most recognizable is Bella Skyway Festival, a festival which breathes new life into gothic walls using lights. 
Every visitor to Thorn should see at least the old town, for more ambitious tourists I rechommend to visit The Museum of Contemporary Art, Planetarium and an astronomical observatory. 
To sweets lovers Thorn offers traditional and delicious gingerbreads made by Fabryka Cukiernicza Kopernik. 
Bergen, Norway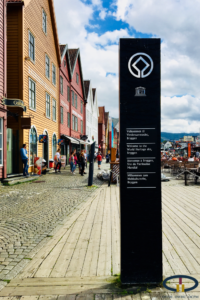 The Bryggen
Bergen was founded by King Olav Kyrre in 1070 AD, in 13th century it became first real capital of Norway. 
The first buildings in Bergen were situated in Bryggen, which has been an important area of the city for many centuries. As all of Bryggen buildings were wooden they have been ravaged by many fires. After the great fire in 1702 Bryggen was rebuilt on the foundations that had been there since 12th century – Bryggen is basically unchanged despite the passing time. 
In 1360 The German Hanseatic League set up one of its import/export offices at Bryggen, dominating local trade for about 400 years. The Hanseatic merchants made Bergen one of the most important European ports of the age. 
Today Bryggen is common heritage of Norway and it's listed on UNESCO's World Heritage. The city of Bergen is also a designated of World Heritage City. 
From my point of view it's nice to walk through the narrow streets and alleyways of Bergen. It's also very essential to walk through Fisktorget and try Norwegian shrimps which tastes different than shrimps from the South Europe – in my opinion the Norwegian one are better. ?
As it was my second time in Bergen I can assure you that this city is a unique and worth seeing heritage! 
Tinn & Notodden, Norway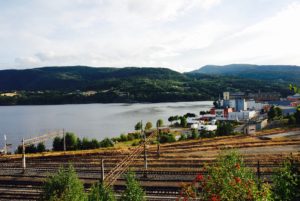 Notodden industrial site
Tinn and Notodden are small cities in a nearby of Rjukan – Notodden Industrial Heritage listed on UNESCO World Heritage Site in 2015. Rjukan – Notodden Industrial Heritage is an interesting story of the second revolution, based on… hydropower! The first industrial scale production took place in Notodden (1905), it contributed to a substantial increase on food production. The idea on Norwegian industrial zone was successful due to innovative solution – fertilizer from air which was developed in two years. Large industrial plants and hydropower plant were also built in two years.
The Rjukan – Notodden Industrial Heritage includes 4 cornerstones: hydropower projects, rise of the industry, transportation trails and urban community development at Notodden and Rjukan.
Tinn is a lovely and quiet city with beautiful landscapes, while Notodden is bigger and, not surprisingly, more industrial.
Kolding, Denmark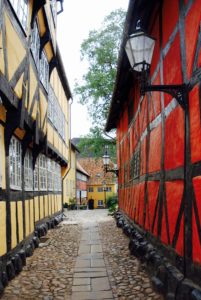 The old part of Kolding
Kolding, one of World Heritage Cities, offers different historical attractions, eg. Koldinghus – the old castle. Kolding is city of old and climatic houses from 16th century.
Warsaw, Poland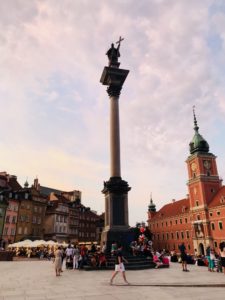 The Castle Square
Warsaw is the capital city of Poland. It was established in 1323 and used to be described as the Paris of the East – it was believed to be one of the most beautiful European cities until World War II. Warsaw is one of the wealthiest capital cities in Central and Eastern Europe. Historical part of Warsaw, The Old Town, was designated a UNESCO World Heritage Site in 1980.
In 1939 Warsaw was bombed at the start of German invasion. Deportation of the Jewish population to Nazi Concentration Camps led to the Warsaw Ghetto Uprising in April 1943 and the destruction of Warsaw Ghetto after a month of combat. In 1944, Warsaw Uprising, which was the single largest military effort taken by any European resistance movement during WW II, led Warsaw to even greater devastation and systematic razing by the Germans in advance of the Vistula – Oder Offensive. It is said that Warsaw gained the title of "Phoenix City" because of its extensive history and complete reconstruction after WW II, which had left over 85% of city buildings in ruins. 
WW II is only a small part of Warsaw history – there is also the third partition of Poland in which Warsaw was annexed by the Kingdom of Prussia and a Communist regime. Nowadays Warsaw is experiencing the largest economic boom of its history. Despite tragical and rich history the city is doing very well.
To find out more about my journey I invite you to follow my Facebook blog.
Yours, 
Nina Kotula