What's time, Sir?
It's the first question, which You may ask after arrival to Bern. There is a reason for it. The most famous attraction in Bern is a big Clock Tower with a big astronomy clock. It's the most recognisable city feature. But Bern it's not only a clock, it's also beautiful broad streets, famous fountains with gorgeous small sculptures and quickly mountains river Aare with crystal-clear turquoise water.
Once in Bern, you don't believe that it is the capital of Swizerland. It's a very small, comfortable and quiet city with nobody in the streets. Arrive in Bern early in the morning or wake up so early and walking around old town, you will find yourself face to face with the charming city. It will beckon you to discover every single corner of it. And you will do it immediately.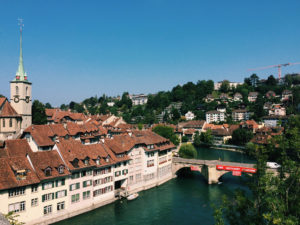 At the beginning of Old town you will have an opportunity synchronize your watches. Yes, because here is situated the most famous landmark of Bern – Clock Tower Zytglogge. It's one of the oldest Clock Towers in all country. It doesn't only show the time, it shows you incredible stage performance. It's very unusual and interesting not only for children, but also for adults. It's so fun looking for adults, who stand with opened mouths and watch performance. See it once, you will understand everything.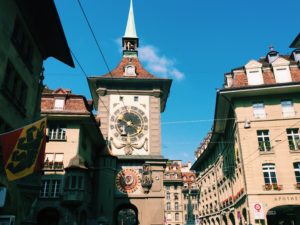 Going through all old town, you will appear on a bridge, which offers views of magic city. All house roofs painted in orange color. It looks like the sun loves Bern so much, so don't matter about weather in Bern always sunny.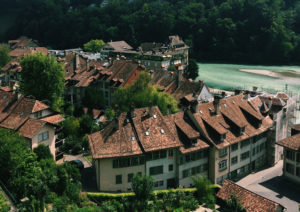 Another thing, which you will love from the bottom of you hurt it is a river Aare. Speed and glory of it will impress you so much. And then walking along the river you see unbelievable view of the town and turbulent seas of waterfalls. If you stop for one minut here, you will stay half hour. It's so magnificent.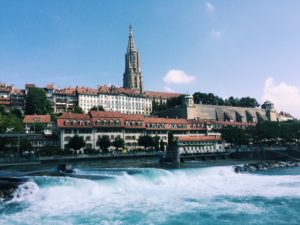 Bern it's city in which instances time stop!
Yours,
Yuliia Dolopolova