Whenever I travel, I go off to random places. Other than typical tourists' sites, I set aside a day for exploration. It usually starts from the supermarket or farmers market – after going through aisles and aisles products with familiar or unfamiliar names, I pick out the few bags of snacks that seem to be the most interesting and open them up right away to get a bite of every single one. Then I would spend the rest of the morning wandering around a neighborhood, camp out at an art museum, or sip on a flat white at a local eatery (preferably not the one with most comments on YELP but definitely with a 4.5 star rating or higher). And of course, with my camera. I want to fit in, to live the life of a local person on a day-off.
Here are a few favorite "it-just-so-happened" finds of the city: hidden gems that surely shall not be missed.
Chateau St. Louis tour: Hear about how the castle came to be. It's a project procrastinated for 100+ years since its initial plan of construction. Yes, the ruins seem to be nothing more than brick walls, but give it an hour and try to imagine the hundreds of years that site has witnessed. Take a look at the diamond pin from past parties, the sealed, gold-coated silverwares and plates that archeologists spent months digging out, the handsome painting of overly obese governor by his amazing PR team of the time.
Address: Terrasse Dufferin, Quebec City, Quebec G1R 4P5, Canada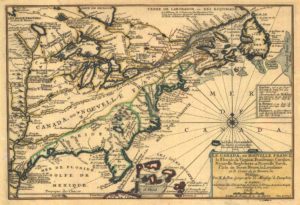 Chez Boulay Cafe: Recommended by locals. Someone has described Quebec as France plus UK divided by America. By that analogy, Quebec cuisine would be more or less like upscale French restaurant located in upper state New York with the proper service you would expect only in the UK – just try it for yourself.
This is the perfect place if you are not interested in a full-on meal. No matter you are looking for something like pure sugar, a breakfast croissant, a savory quiche, or a warm soup to bring you back to life from the cold, this is the place to be.
Address: 42 Côte du Palais, Québec, QC G1R 4H8, Canada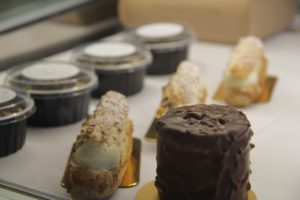 Ex Machina: A theatre reopened in September, Ex Machina has a few shows lined up for the rest of the year. It reminded me of the Shed at Hudson Yard in NYC. It's a new interactive space that allows for dialogs between artists and viewers. The remarkable design, from the exterior reinvention of a historical site to the interior industrial elements and modern technology, give this place so much potential.
Address: 966 Rue Saint-Jean, Québec, QC G1K 4B9, Canada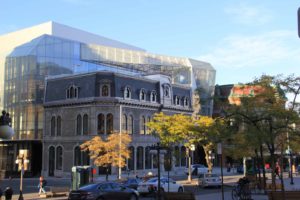 Best way to explore QC: give it a few days. Other than the must-sees, just walk around – it's a small enough place that makes everything easy. Take note of the restaurants and special stores and random art on the street. Then spend the afternoon walking down Rue de S. Jean outside of the Old City. Or if you a nature person, head over to the park and walk along the river, or get on a bike tour to the waterfall.